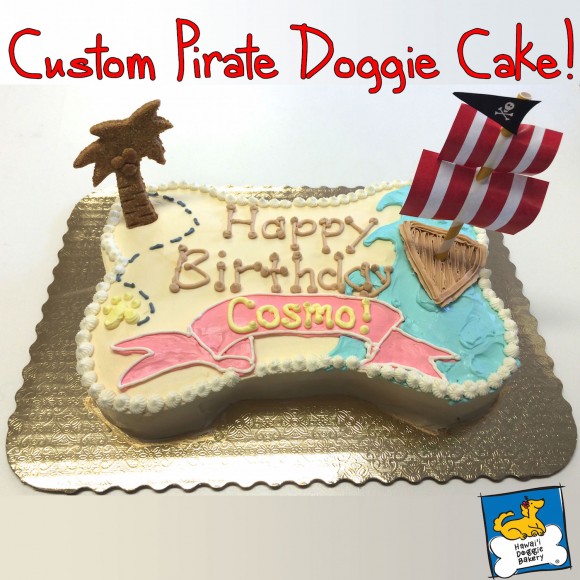 Arrrrggh!  Avast ye water doggies!  Ye Pirate Paw-ty Cake for Cosmo's birthday be our new favorite custom cake!
Our new friends over at Poi Dogs Daycare called us about a custom paw-ty cake for a super fun party they were planning for Cosmo.  "No problem!" we said enthusiastically.  "What's the theme?"  When we heard "PIRATE-themed" our faces curled up in a classic pirate snarl!  We couldn't wait to get started, but there were a few challenges we immediately thought of.
The first problem for us to solve was the colors.  Everyone knows the main colors for pirates are white, black and red.  White is no problem for our cakes, but bold colors like red and black don't tend to take well with our cream cheese icing/frosting.  We certainly didn't want a PINK and GREY cake for a pirate party.  That just could not happen!  What to do, what to do…?
The next problem is that Niki, co-owner and paw-ty cake decorator, decided that there must be a pirate ship on this cake.  How is that a problem?  Well…to pipe a pirate ship on a cake is not that easy!  Ask us in 5 years and maybe our cake decorating skills will be so amazing that a pirate ship is no problem, but for now…?  Not so simple!
So how to tackle these problems?  Armed with Cosmo's Party Invitations, Niki got to work sketching out the design.
The elements we definitely needed were: Happy Birthday Cosmo (in a banner background), water and Pirate ship.  After laying out where everything would go, we realized we wanted to do an "X" marks the spot kind of thing (but a paw print instead of an X), so the cake would have to be half water, half sand.  Still couldn't figure out how to make a good pirate ship though — see scribbled out ship in the left most design, a.k.a. the blob of nothing.
Cosmo's invitation had a palm tree, so we sketched in a palm tree to pipe directly on to the cake until we remembered that we recently started making palm tree biscuits….BINGO!  A light went off in our heads.  If we make the palm tree standing up, that adds a 3D element to the cake. We can't have just one 3D element, it will make the cake unbalanced.  So let's make the PIRATE SHIP 3D too!!!!!
Making the pirate ship 3D would solve our two problems in one.  1) We could incorporate red and black into the cake without worrying about coloring the icing.  2) We could make a MUCH BETTER cake with papercrafting than it would be if we iced the design on.
After that, it was just a matter of baking the cake, mixing up the colors, filling up icing bags and getting to work!
We couldn't be more pleased with the end result.  It is definitely our favorite cake so far!!  We got to try out new techniques and designs (you may notice, the water is a little textured to simulate real water).  This was also the first time we used 3D elements that weren't biscuits.  We think this really opens up possibilities for future custom cakes!  Can't wait for the next one.
Here's a small collage of Cosmo's paw-ty at Poi Dogs Daycare.  Doesn't it look like an AMAZING party???  What a lucky dog!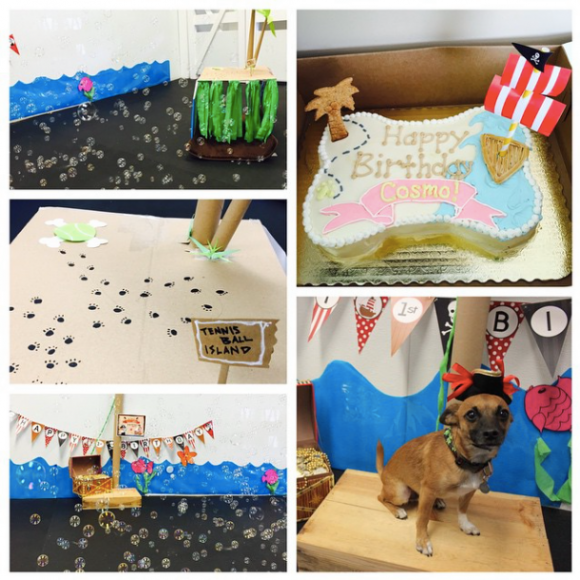 Want to order a custom paw-ty cake for your dog?  E-mail us at woof@hawaiidoggiebakery.org and we'd be happy to help you!
Interested in having a doggie party?  E-mail chelsey@poidogs.com or call 808-5DOGGIE to learn how you can host your own paw-ty at Poi Dogs Daycare