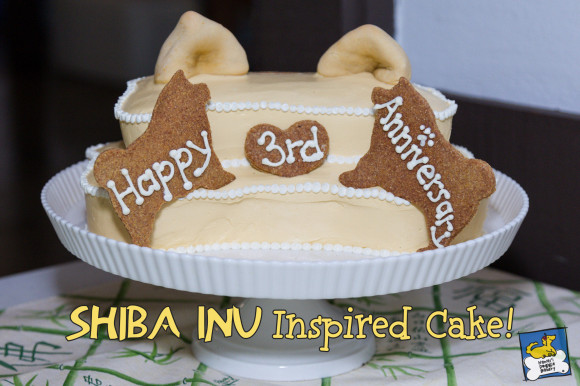 You might remember from previous blog posts that we just love Shiba Inu dogs.  Not just because we have 3 in our family, but because without Shiba Inu Hawaii, we wouldn't be here baking fresh baked doggie treats for pups!  This past April, Shiba Inu Hawaii celebrated its' 3rd Anniversary as a Club.  Every year they throw a paw-ty, and this year was no exception!
Everyone in club already expects us to bake a cake — we did a special Snowman cake for their 2012 Holiday Pawty, and also a couple of cakes for their 1st Anniversary Celebration.  But what they weren't expecting was that this year's cake was specially commissioned all the way from the UK!  Yes, the Shiba love stretches far and wide, and a Shiba facebook friend named Bruno (also known as Secret Agent Bruno) reached out to us to surprise his Hawaiian friends.  He told us to create a cake and the only requirement was that it would be 2 tiers.  The rest was up to us!
To tell the truth, we weren't 100% sure how this cake would look like until a couple of days before the paw-ty.  Inspiration hit when I was considering my Shibas' pointy ears…why couldn't our cake have pointy ears?  OH and a curly tail!  Excellent!
The result was a tan colored cake to match the classic red Shiba color.  The ears and the tail were made out of white flour, poi and honey, which is the same dough recipe as our Doggie Bentos, Poi Dog Pretzels and Paw Lickin' Lasagna to name a few.  We finished it off with some white detailing to really make the tan color pop, and some Shiba-inspired biscuits with the message, "Happy 3rd Anniversary."  On the back was a surprise: "Love, Secret Agent Bruno!"
The verdict?  A success!  The Shibas loved the classic banana and okinawan sweet potato flavors, and the humans enjoyed the design.  Of course everyone loved the thoughtful gift from Bruno!
For more photos from the pawty, visit Shiba Inu Hawaii's facebook by clicking here!
If you're looking for a custom cake for your own paw-ty, please contact us!  We'd love to hear from you.