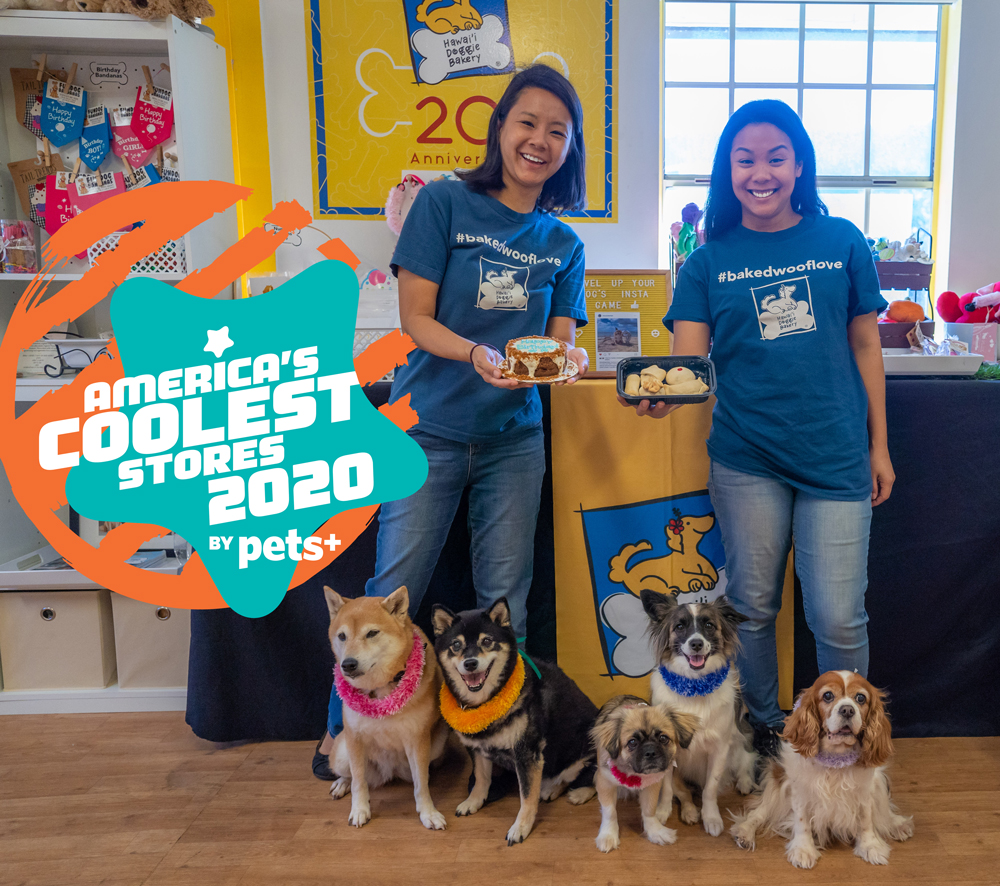 Super duper exciting news everyone!!! Hawaii Doggie Bakery has been selected for an Honorable Mention as one of "America's Coolest Stores" by PETS+ Magazine!!!!⁠
⁠
PETS+ Magazine is "The Better Business Magazine for American Pet Pros," and this is their fourth annual contest. The America's Coolest Stores contest is one of our favorites to follow because there are sooo many pawesome stores out there!⁠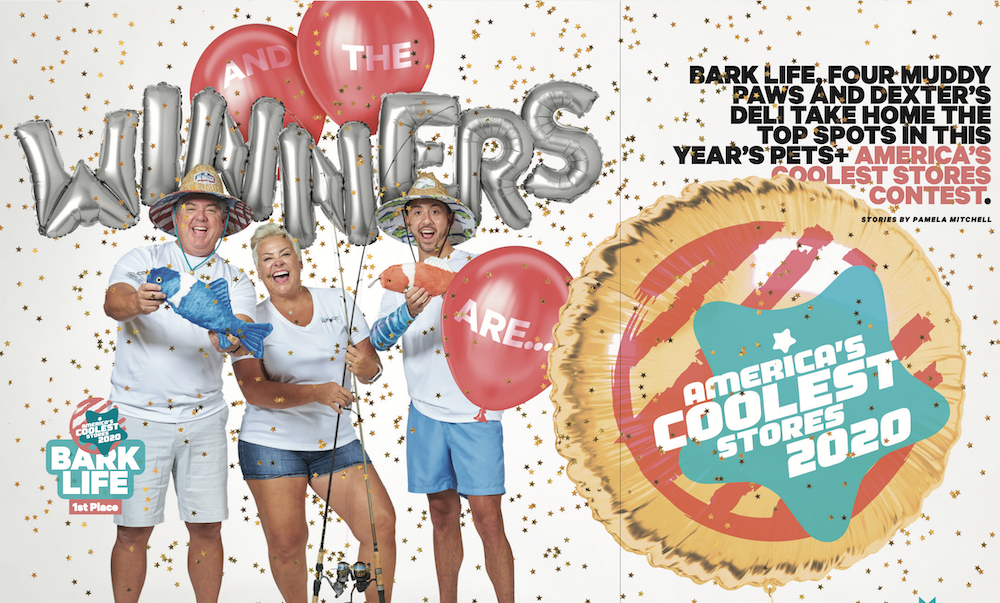 It never even crossed our minds to apply because to be honest…we don't think we're that "cool." 😆 We just do what we do! We're proud, happy, honored to bake for all our doggie customers, but seeing winners of this contest in the past we thought there's no way we could never measure up.⁠
⁠
Luckily though, we had the opportunity to meet Pamela Mitchell, the Editor-in-Chief at the annual SuperZoo Convention in Las Vegas last year and she shared with us that there are so many more definitions of the word cool than we originally assumed! So we took the chance, submitted our application and here we are!⁠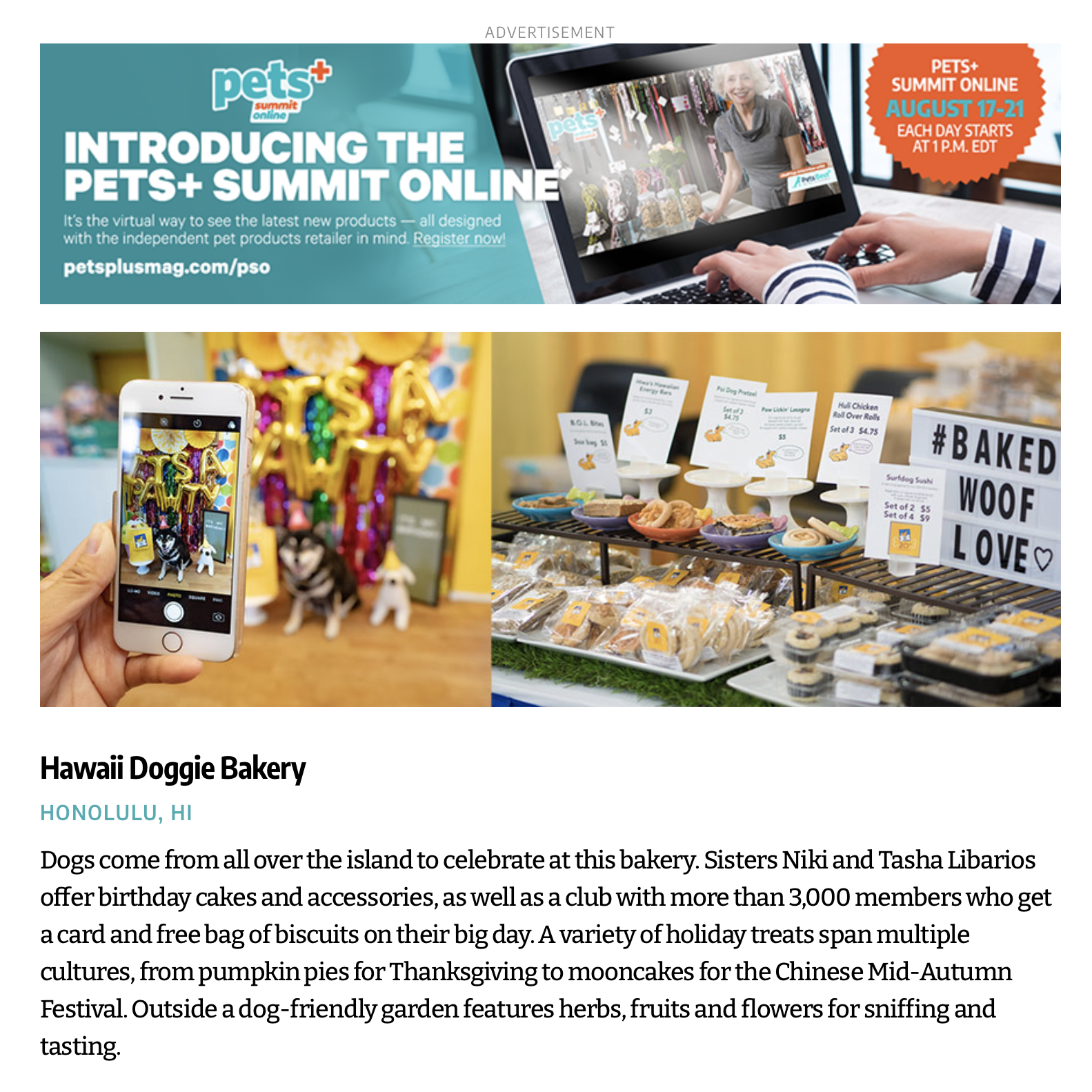 Thank you so much to Pam and PETS+ Magazine!! We are so honored to represent Hawaii and what we do. Congratulations to the 1st (Bark Life Market and More), 2nd (FOUR MUDDY PAWS) and 3rd Place (Dexter's Deli) winners as well as our fellow Honorable Mentions (Just For Paws, Sniffany's Dog Grooming Salon, Green Dog Pet Supply, Firehouse Pet Shop & Grooming, The Dog Store and Petagogy)!!
⁠
And of course last but not least thank you so much to all our customers over these 22 years!!! Let's face it…we are only cool because of all of you!!! ♥️⁠
Press Release
HAWAII DOGGIE BAKERY HONORED IN AMERICA'S COOLEST PET STORE CONTEST
[Honolulu, HI] Hawai`i Doggie Bakery, Hawaii's original bakery has been selected for Honorable Mention as "America's Coolest" by PETS+, "The Better Business Magazine for American Pet Pros," in its fourth annual contest.
The America's Coolest Stores Contest highlights the best examples of independent pet businesses throughout the United States. They are judged by a panel of editorial staff and retail experts on the basis of their history, business practices, interior and exterior design, customer experience, marketing, community involvement, and online presence.
"We asked businesses from around the U.S. to tell us exactly what makes them so cool. We were floored by the response, especially with a deadline during the pandemic, and we thank all of the stores that entered," said Pamela Mitchell, PETS+ editor-in-chief.
"The winning businesses vary by size and specialty, from 352 square feet of baked goods and birthday accessories to 14,000 square feet of retail, grooming, day care and boarding — all of them cool in their own unique way."
The three top winners are featured in the August/September issue of PETS+. Honorable Mentions will be profiled in issues of PETS+ through July 2021.
Without further ado, the winning businesses:
First place — Bark Life, Seminole, FL
Second place — Four Muddy Paws, St. Louis, MO
Third place — Dexter's Deli, San Diego, CA
2020 Honorable Mentions (in alphabetical order)
The Dog Store, Alexandria, VA
Firehouse Pet Shop & Grooming, Wenatchee, WA
Green Dog Pet Supply, Portland, OR
Hawaii Doggie Bakery, Honolulu, HI
Just For Paws, St. Charles, IL
Petagogy, Pittsburgh, PA
Sniffany's Pet Boutique, Albany, OR
About PETS+: A division of SmartWork Media, PETS+ provides American pet business owners with the tools and actionable advice they need to strengthen their businesses. PETS+ engages business owners in a way that gives them the knowledge and strength to stand up to the competition and thrive.
For more information, email Pamela Mitchell at pamela@petsplusmag.com 
About Hawaii Doggie Bakery: Hawaii Doggie Bakery is Hawaii's original bakery for dogs, founded in 1998.  Hawaii Doggie Bakery handcrafts fresh baked healthy innovative treats for dogs using quality local Hawaiian ingredients and nurtures a community that celebrates the love of canines.  Hawai`i Doggie Bakery's shop is located in Manoa at 2961C East Manoa Road.  They are open Wednesday – Monday (closed Tuesday) 10am – 6pm.  Hawaii Doggie Bakery also sells online on their website www.hawaiidoggiebakery.org. For more information and photos, visit our Press Kit here.
###