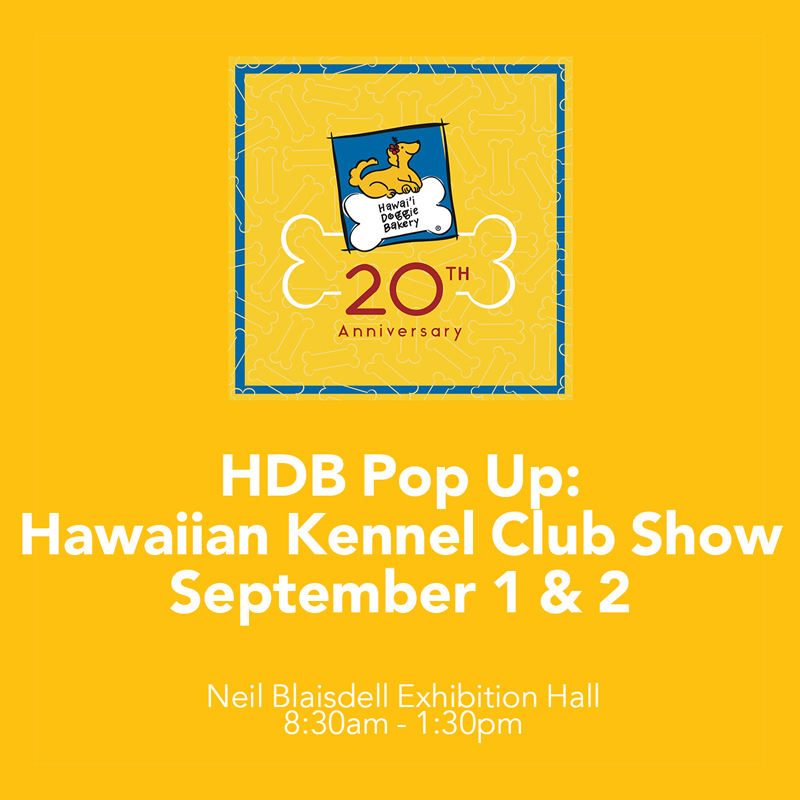 Our next Pop-up is at the Hawaiian Kennel Club Show!
Founded in 1906, the Hawaiian Kennel Club strives to ensure responsible canine ownership and breeding, and promotes the appreciation and welfare of purebred dogs in Hawaii.
Smaller meets and matches take place throughout the year, and this weekend is one of the biggest shows of all. We have to admit, we are not exactly experts in dog shows, which is why we enjoy coming to learn more every year. The Dog Show world is fascinating, and we are so appreciative of the friends we've made who teach us a little bit more each time.
If you are interested in learning more about any type of purebred dog, and would like to see the best of the best in Hawaii, this is the event for you! Show hours are 8:30am – 3:00pm both days (but we suggest coming early so you make sure not to miss the breed you'd like to see in the ring!)
Hawaii Doggie Bakery HKC Menu:
🐶 Fresh baked biscuits – Chicken-n-poi, Okinawan Sweet Potato & Fish-n-poi
🐶 ALOHA Biscuit Mini Packs
🐶 Mutt Muffins – Banana, Okinawan Sweet Potato
🐶 Doggie Bento
🐶 Huli Chicken Roll Over Rolls
🐶 B.O.L. Bites
Also bringing:
🐕 Himalayan Dog Chew Products – yakycharms, yums and more!
🐕 Pet Winery Products