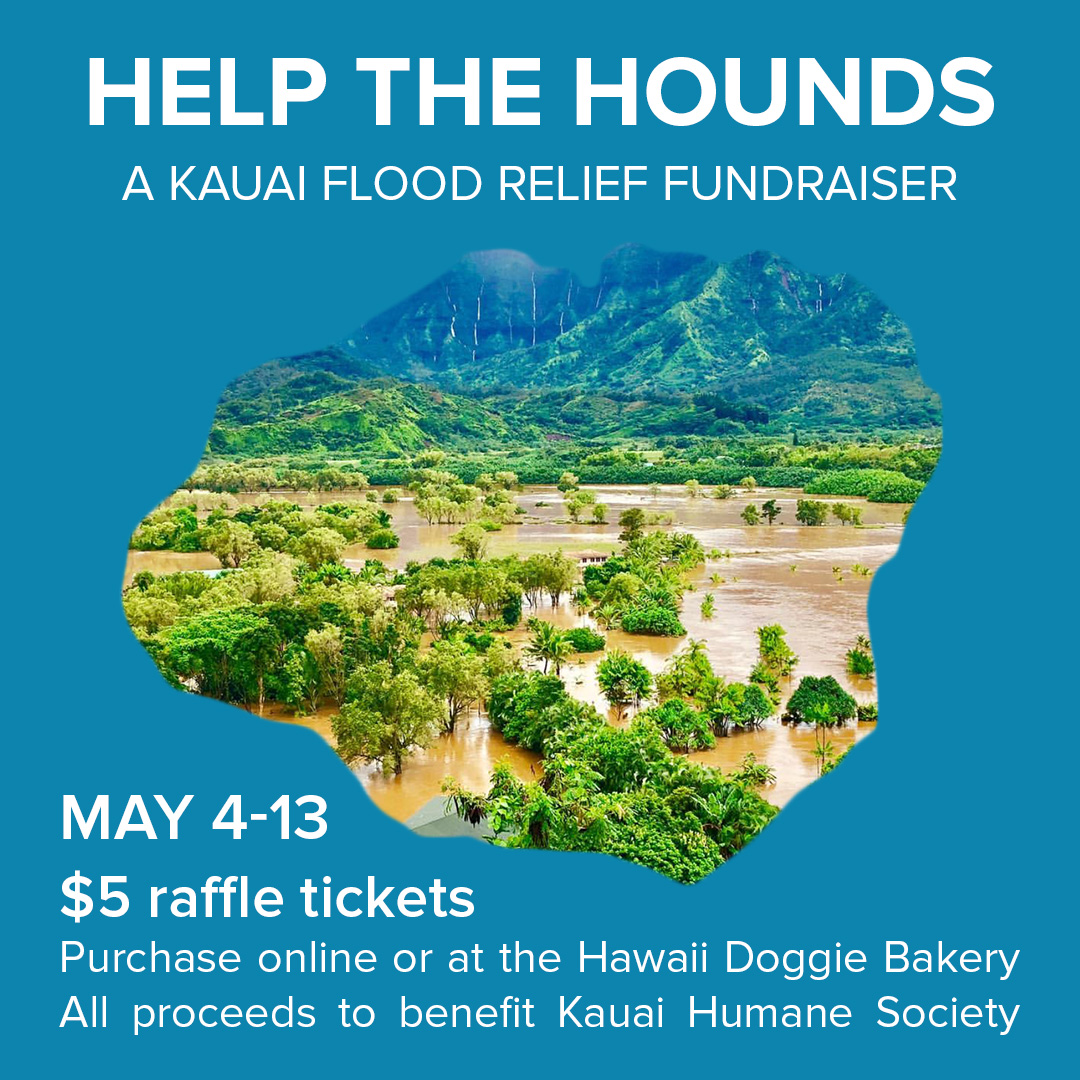 Hawaii Doggie Bakery and Keri Nakahashi Photography have teamed up again for another fundraiser to help the animals! Thanks to donations from our very generous friends, we are selling raffle tickets to help the animals affected by the recent Kauai flooding.
Here's how to help:
🐶: Purchase a $5 raffle ticket. Tickets can be purchased at the following places:
🐕: Hawaii Doggie Bakery until May 11
🐕: Keri Nakahashi's Booth the Hawaii Pet Expo (May 12 & 13)
🐕: Online: Click here to donate. Each ticket is just $5.
(If it appears, please uncheck "Paying for a good or service" before submitting final payment.)
🐱: Drop your raffle ticket into the jar representing the prize you'd like to win! If you are buying raffles online, please include in the notes where you'd like your tickets to go. We have prizes donated to help the cause from the following generous donors:
🐕: BarkingDogBlankets
🐕: Maika'i Pet Sitting & Mobile Grooming
🐕: Animal Communicators Hawaii – Eileen Abe
🐕: Hawaii Doggie Bakery
🐕: Keri Nakahashi Photography
🐕: Poi Dog Treats
🐕: The Poi Puppy
🐕: Raw Dog Hawaii
🐕: 808 Pup Pawducts LLC
🐕: Choco le'a LLC
🐕: Crazy Canine
🐕: Parado Power
Raffles may be purchased at the bakery starting May 4 until May 11, and then at Keri Nakahashi Photography's Booth at the Hawaii Pet Expo. Winners will be announced May 15, and prizes may be picked up at Hawaii Doggie Bakery.
All money raised will be going to Kauai Humane Society and their disaster efforts.
A mahalo to our friends Hawaii Pet Portraits and Furever Friends Play and Stay for leading the fundraising efforts for KHS! Check out their fundraiser Mini Pet Portrait Sessions Benefitting Kauai Humane Society, and stay tuned to hear more about what they have in store.