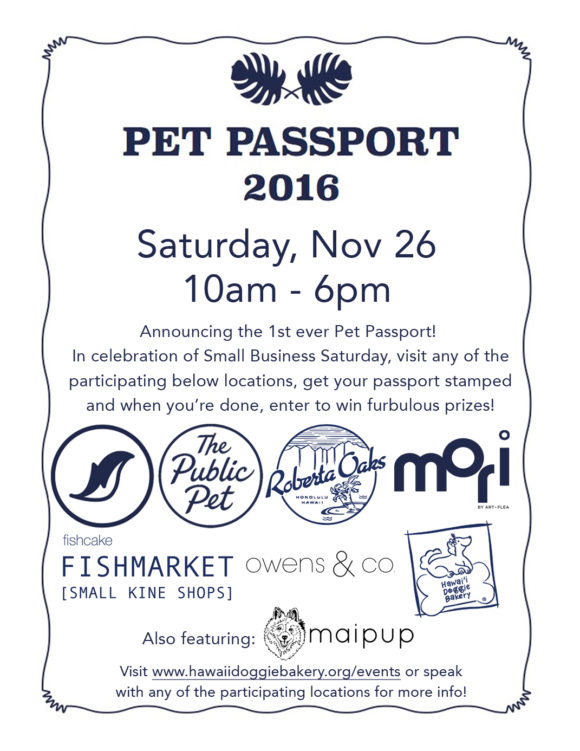 Eight local Small Businesses partner up to bring you the 1st ever Pet Passport event for Small Business Saturday on November 26. Pet parents and families will have fun, enter to win prizes and most importantly support their favorite local businesses by participating in this unique Small Business Saturday collaboration. Each participating location will have Pet Passports available as well as promotions available for customers exclusively on Small Business Saturday. Get your Pet Passport stamped and drop the completed card off at any of the 6 locations to enter to win a prizes with a total combined value of over $500!
"Small Business Saturday" was created by American Express in 2010 and has since become an annual tradition occurring on the day after Black Friday.  "Small Business Saturday is truly one of the highlights of our year both for sales and customer interaction," says Hawai`i Doggie Bakery Co-Owner Niki Libarios. "Our customers wonderful to come out an support us on this day each year, and we are grateful for the opportunity to thank them as well."
"The Public Pet is thrilled to be participating in Shop Small Saturday's Pet Passport," says Jordan Lee, owner of The Public Pet. "It helps local pet owners to discover new Honolulu shops that carry awesome, local, and creative pet products." By working together on this joint promotion, these seven Small Business Owners hope to boost sales and gain new clientele by offering enticing offers all while at the same time providing an exciting day for customers.
Participating locations include:
PET PASSPORT: SMALL BUSINESS SATURDAY
SATURDAY, NOVEMBER 26
10AM – 6PM
HAWAII DOGGIE BAKERY, THE PUBLIC PET, OWENS & CO,
ROBERTA OAKS, BIG BAD WOLF KIDS, MORI HAWAII
Small Business Saturday is a movement created by American Express to drive shoppers to local merchants across the US.  For more information visit: www.shopsmall.com