We are delighted to announce the first Hawai`i Doggie Bakery Biscuit Bundle Pack: The Best Friends "BFF" Biscuit Pack!
We've been working on the idea of themed biscuit packs for the past few months, in many different capacities.  We started off with creating different shapes and decorations using only our biscuit recipe.  Those of you who have been in our shop this year may have noticed our individual Palm Tree biscuits or "Aloha" bones: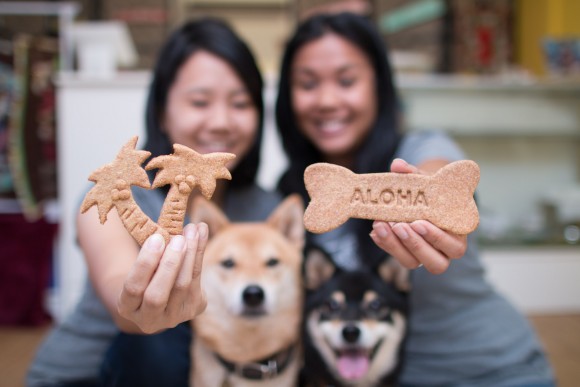 We also started experimenting with a greek yogurt frosting that dries hard, and used it for decorating.  Although we do many doggie cakes (and are getting "fancy" with our custom cakes!), working with cream cheese is a totally different technique vs. working with the frosting for decorating biscuits.
We started the first of our decorating in February with our Valentine's Day decorated cookies, and then again in March for our Girl's Day Gift Sets:
At first it took soooo looonng to make each design, and often it would start off looking cute, but as it dried it would all glob together into nothing.  Or we would over/underestimate the amount of frosting needed.  Or we would not allow for enough drying time!  Each attempt we learned a little more and now we are so excited to use our skills to create this set for all the Doggie Best Friends out there!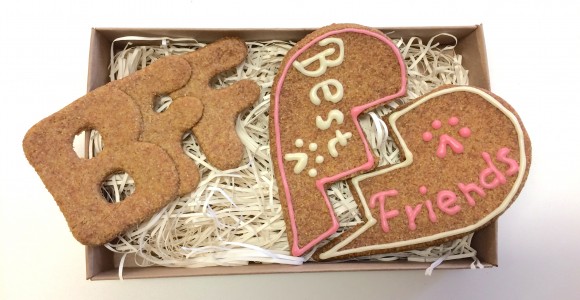 The best part about this biscuit bundle?  It will be available for shipping to the mainland!!! This was one of the main reasons for working on our skills with biscuits.  Most of our products cannot ship due to perishability, and it is such a shame because the most creative of our treats can only be enjoyed by local doggies.
We hope this biscuit bundle will be the first of many we create.  National Best Friend's Day is June 8th, so make sure your doggie's best friend has a special gift from his/her BFF.  Click here to order yours today!  The Best Friends BFF Biscuit Pack is available for ordering/pre-ordering now and will be available in our Manoa shop starting Thursday, May 28 while supplies last!