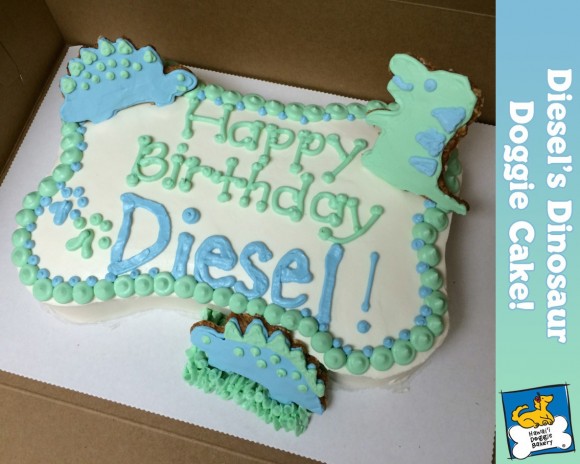 Our friend Diesel from Pets in the City turned 1 on June 6, and to celebrate his mom decided to throw him a dinosaur paw-ty!  Diesel's mom has been ordering cakes for Pets in the City for years from us, so she is familiar with our cakes and biscuit paw-ty favors.  The original request was an Okinawan Sweet Potato flavored paw-ty cake with blue and green icing and paw-ty favor sets but we thought…we can do better than that for Diesel!
It all started with the favors.  Usually we do our classic Kalua Chicken-n-Poi Bone, Fish-n-Poi Fish and Okinawan Sweet Potato Heart.  But then we looked through our rather large container of cookie cutters and saw some dino shapes!  Perfect for Diesel's paw-ty!
Diesel's cake is Okinwan Sweet Potato flavored with blue and green cream cheese icing.  For the dinosaur decorations, we'll admit, we tried to frost a dinosaur completely out of the icing…not gonna lie, we need more practice before we can do that.  As we thought about it, we looked at the dinosaur biscuit favors and realized we could frost the biscuits just like human cookies.  Viola!  Diesel's Dinosaur cake all came together: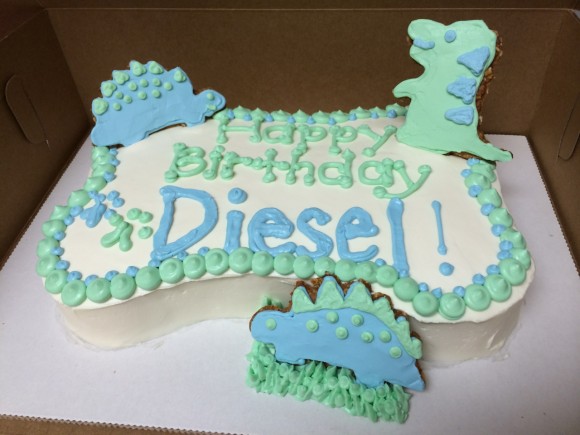 It's our new favorite custom cake.  Diesel and his mom were blown away!  They said it was a great addition to the paw-ty.  Check out the photos from the celebration below, and don't forget to check out Pets In the City for dog sitting and future birthday parties for your pup!