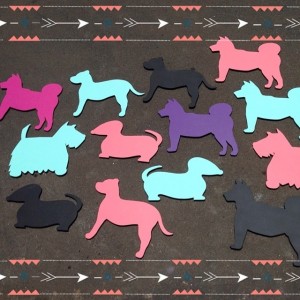 We've been big fans of Little Fish Hawaii for awhile now, ever since we first got our custom Scottie Chalkboard made.  After that it was custom mini bone chalkboards and our giant bone frame for our wall chalkboard…it was only the natural next step that we reach out to Randi at Little Fish Hawaii to get these furbulous chalkboards to this year's Hawaii Pet Expo!
These chalkboards are handmade – carved from wood and painted in special chalkboard paint.  Each chalkboard can be mounted on your wall using the wall mount on the back.  Available designs are Scottie, Daschund, Pitbull and Shiba Inu.
What you see in the above photo are all the colors and shapes we'll have available this weekend, so come and get them while we've got them!