Valentine's Day is coming up and we know that you just WUVVVVVVVV the special pups in your life!  Show them just how much you love them with a special treat from Hawai`i Doggie Bakery!
Fresh Baked Valentine's Day Gifts…
We will be bringing back our Mini Heart Cakes from last year – they are banana flavored and come in three different designs:

Available Feb 7-14 in our Manoa shop only.  Pre-order Jan 31-Feb 11 and save 20%!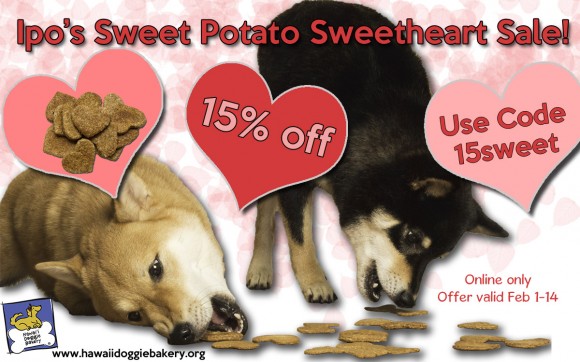 Also happening for Valentine's Day – Ipo's Sweet Potato Sweethearts, 15% off from February 1-14!  This is an online-only special, just use code "15sweet" for 15% off.  Click here to order!
Other Valentine's Day Gifts…
Starting this week we have some totally pawesome Valentine's Day-themed gifts made exclusively for us by Hawaii Handmade Gifts!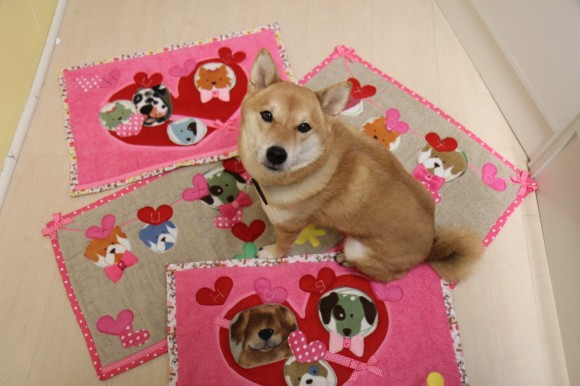 These adorable Valentine's Day Doggie Rugs are made by our friends at Hawaii Handmade Gifts exclusively for Hawai`i Doggie Bakery.  These rugs feature a handmade design–all of them unique. Not one rug is like the other! Display them in any room, use as a placemat for doggie bowls, a rug for the bathroom, wiping off dirty paws at the door…you decide!  They're cute anywhere, really.  Made from towel and blanket material so it's easily machine washable.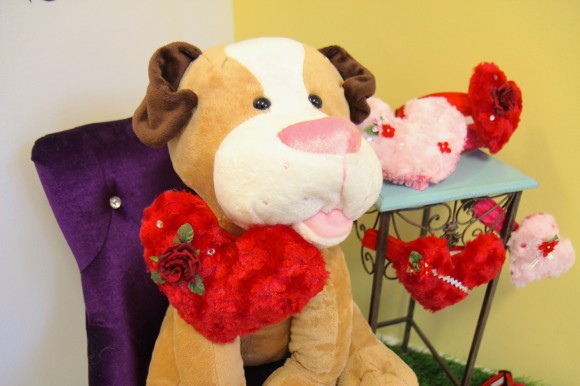 At our request, Hawaii Handmade Gifts came up with something really special for pups to wear to celebrate this day of love…"Valentine's Day Plush Heart Collars!"  These hearts are soft and fuzzy, decorated with embellishments that will certainly put you and your pup in the mood for love.  Available in three different sizes and many different designs..feel free bring your doggie into our shop to get the perfect fit and design to match!