Aloha HDB 'Ohana,
We can't believe how quickly time is flying by! These last few months have been a whirlwind of "supaw fun" events with Hawai'i Doggie Bakery. We got to meet so many new faces (both furry and human) and reconnect with familiar ones too!
Earlier this month I had the privilege of attending two very special dog related events that left me really appreciating the community of Hawaii dog lovers in Hawaii.
First stop was at Hale Kū'ike. My mother brings her dogs to pet visitiations there, so it was a location I was familiar with. Hale Kū'ike is a residential memory care facility for individuals with Alzheimer's disease or other dementia related illnesses. Their residential dog Vita had her 6th birthday party this year and Hawai'i Doggie Bakery was invited to celebrate!
The party was filled with doggie games, decorations, plenty of friends, and of course yummy treats from Hawai'i Doggie Bakery! It was so much fun celebrating Lita's birthday and seeing all the residents smiling and experiencing joy from a room full of happy dogs. We loved being part of such a happy day and Lita was a great inspiration to my sister and I.  We were very touched by the influence she has on every person and animal she meets!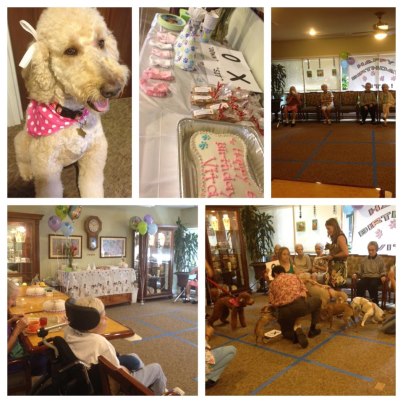 Our next stop that week was participating in the Makiki Dog Walk. My sister, having been a Makiki resident for several years knows first hand that although the residents are dog friendly, the neighborhood has yet to have their very own dog park! Many residents are forced to walk their dogs on leashes around the busy streets. The Advocates for a Makiki Community Dog Park are a group of committed residents who are raising money and awareness in support of a dog park in the area. We had a fun filled day with plenty of games, food, booths, and of course a walk around the neighborhood. It was nice to see many influential names attend the dog park in hopes of a more dog friendly Hawai'i. We're very excited to see this community grow and can't wait to one day bring our dogs to a Makiki Dog Park!! If you'd like more information click here.
Until next time, furry friends!
-Tasha