Upcoming Events
From pop ups to expos, we love to stay active in the community! See below for what's coming up for Hawaii Doggie Bakery.
Dog-friendly Halloween Events
We are thrilled to announce that for this year's annual Howl-o-ween Woof-tacular, we are not only teaming up with Keri Nakahashi Photography again, but we have been invited to partner with the Royal Hawaiian Shopping Center as well!
This Howl-o-ween Event is two parts: The first is an Instagram Contest being held from Oct 1 -17. Simply post your picture using #RHCHowl#Contest for a chance to win.  Twenty Instagram finalists will receive a $20 @royalhwnctr gift card and a chance to win more prizes at the Howl-O-Ween Doggie Parade on Sunday, October 21st in The Royal Grove. For more details and contest rules, click here.
On October 21, we will be headed down to the Royal Hawaiian Center for the Howl-O-Ween Doggie Parade but that's not all! Bring your dog in costume for some fun as well – details to be announced!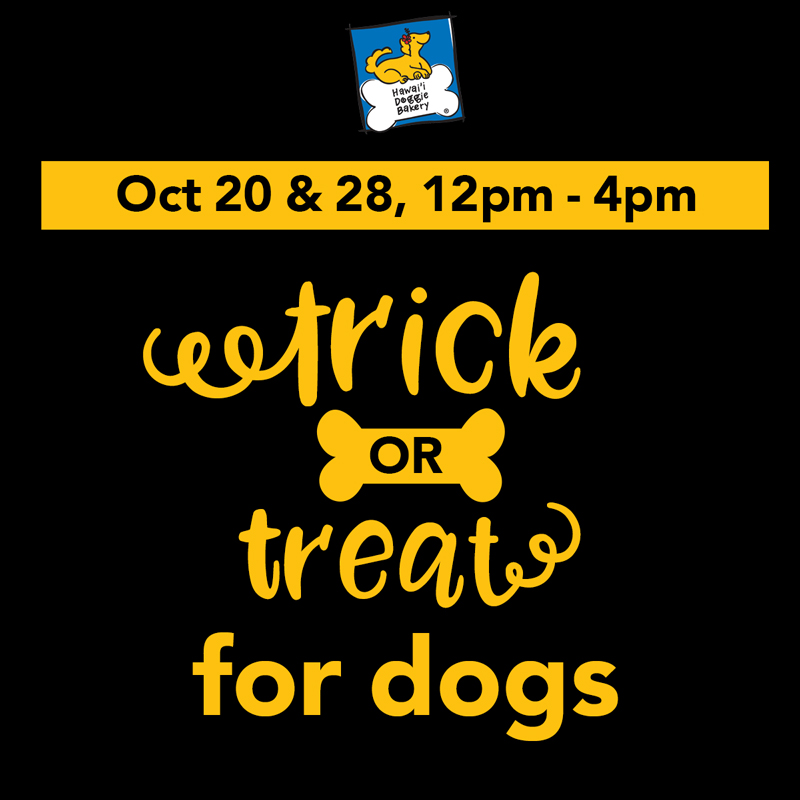 Our very popular annual Trick or Treat for dogs returns to Hawaii Doggie Bakery!
All dogs who come down to our shop in costume who do a TRICK will get a TREAT! (don't worry, sit counts as a trick!)
Sunday, October 21 is our annual Howl-o-ween Woof-tacular with Keri Nakahashi Photography!
This year we are holding the festivities in a new venue thanks to the Royal Hawaiian Shopping Center! Expect Howl-o-ween games, local vendors, a photo station designed by Keri and the big Halloween Dog Parade of Instagram Finalists!
We are so excited and we can't wait for this Sunday's fun. We hope you can your pup can join us!
Click here for more info!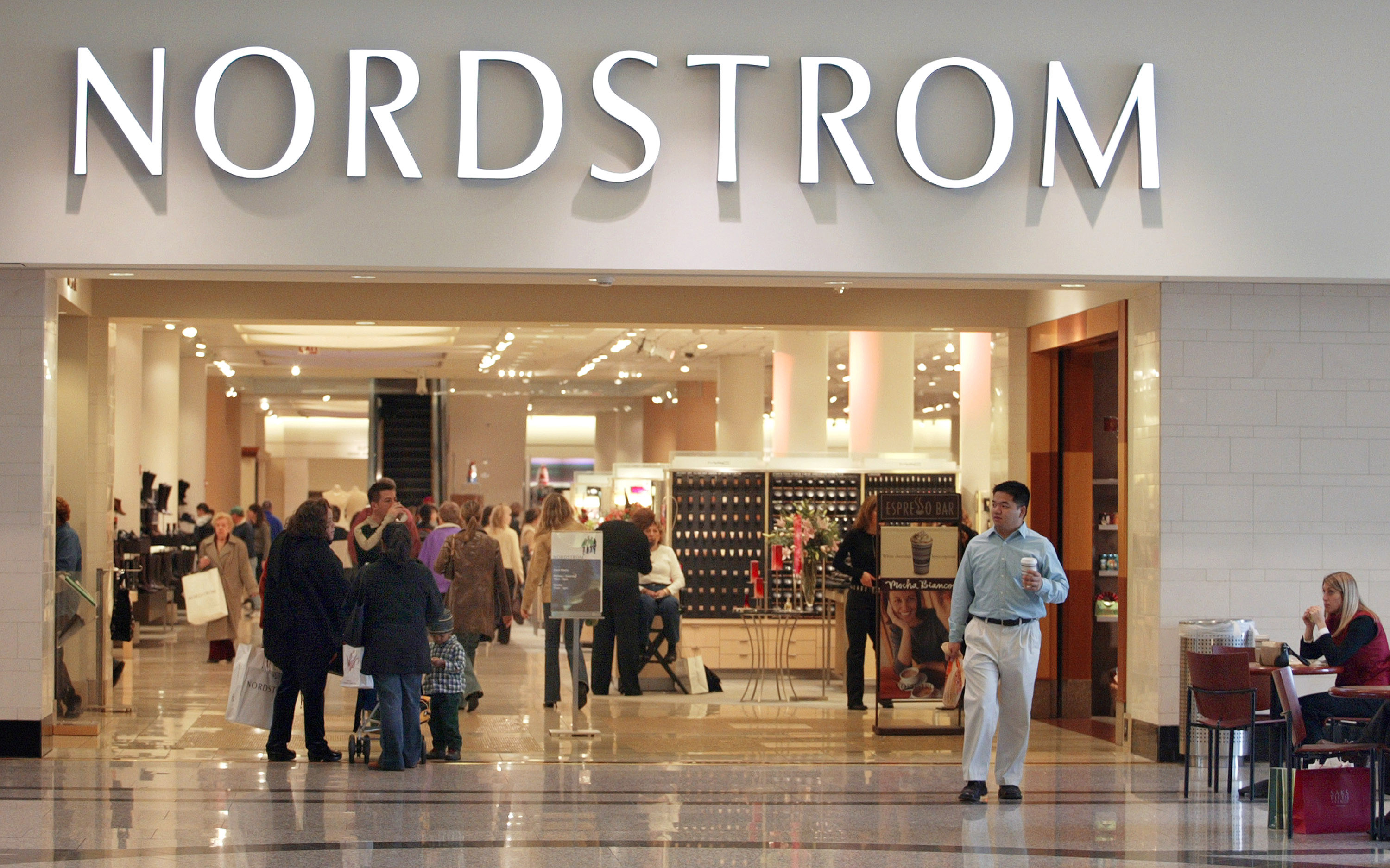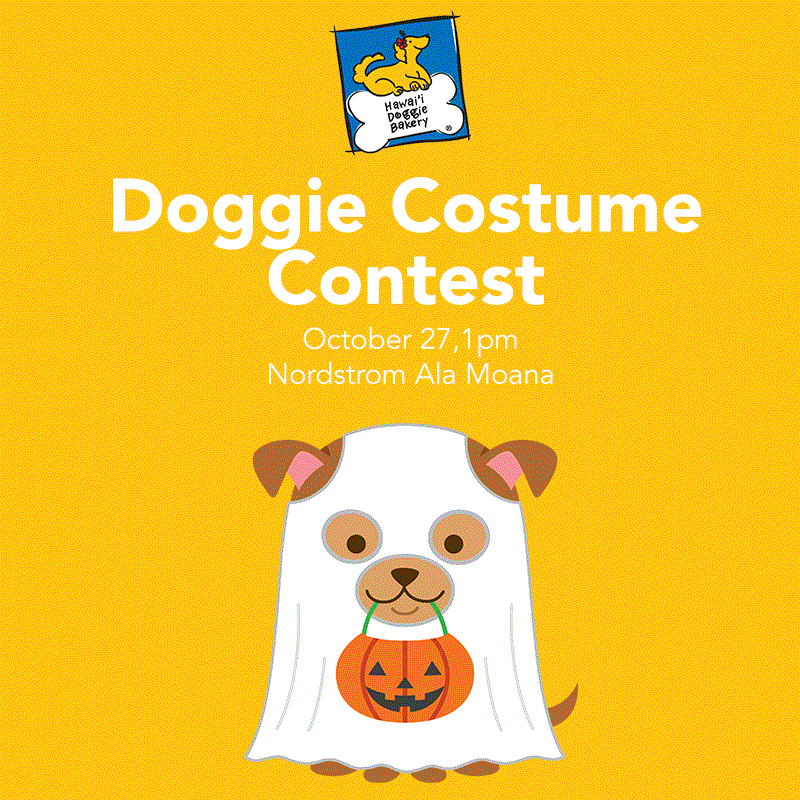 October 27 from 12pm – 5pm
We are so excited to be welcomed back to Nordstrom Ala Moana for a Halloween Pop Up!
Nordstrom is also doing something really pawesome at our Pop Up…they've invited us to host a Doggie Costume Contest!!
YES – you can bring your dog in costume into Nordstrom Ala Moana to win a Costume Contest – we can't believe it either!
Holiday Events, Pop Ups and more!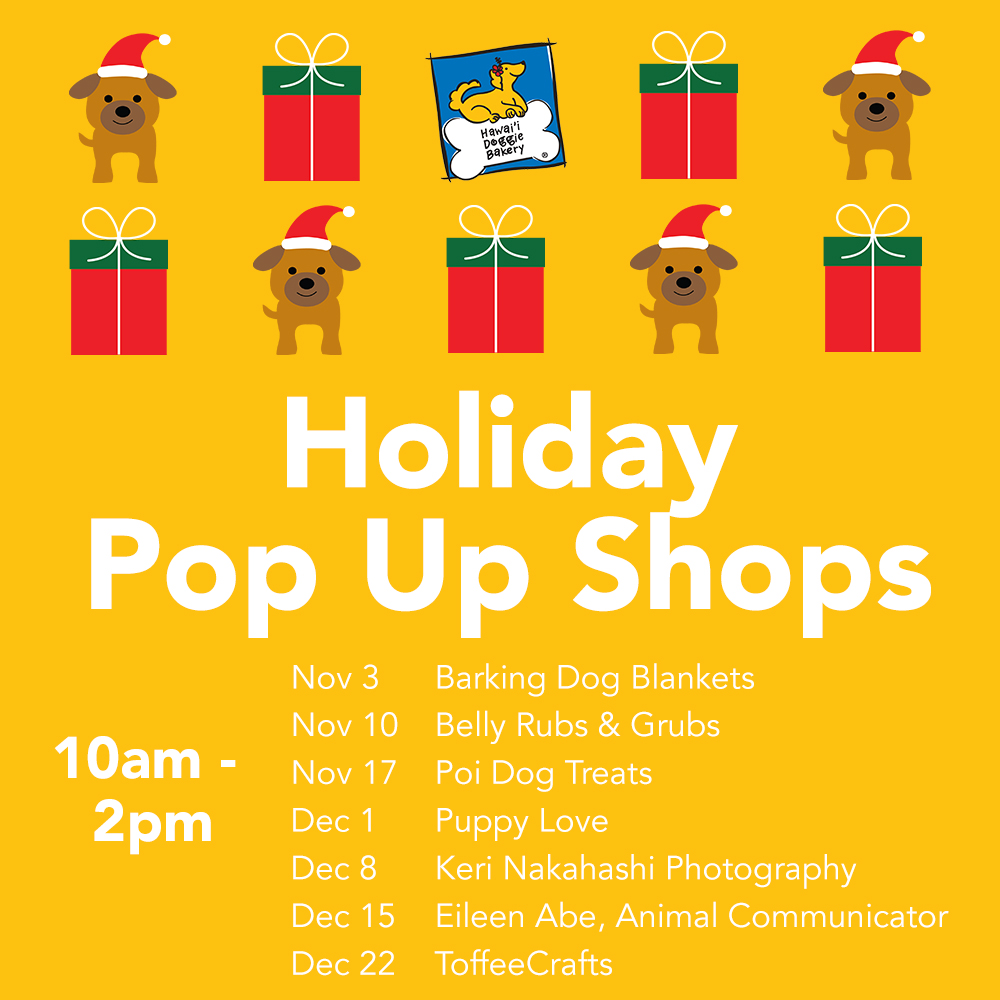 Looking for something unique and special for your dog this Holiday Season? Every Saturday in November & December from 10am – 2pm, Hawaii Doggie Bakery welcomes local pet Small Businesses to help fill your pup's stocking with something both of you will love!
For more info click here
November 24: Small Business Saturday Paw-ty
November: Doggie Secret Santa returns! Sign up online and be matched up with another local doggie for a special holiday gift-giving game. Details to be announced!