When our lei-maker Eileen Abe contacted us a few weeks ago to order 3 dozen individually wrapped Chicken-n-Poi Munchies stamped with "Aloha" we didn't think much of it…until she told us she wasn't ordering for dogs, she was sending them to WOLVES!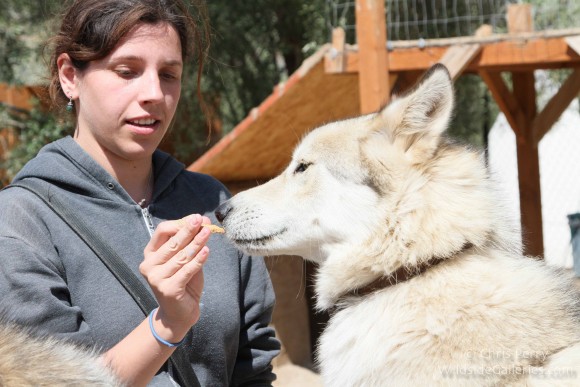 Yes, you read that right, WOLVES!  Besides being an expert lei-maker, Eileen is an Animal Communicator in training, and she recently got the opportunity to travel to California to visit a Wolf-Rescue Organization called "Wolf Connection."  Wolf Connection is an amazing group that rescues and trains wolves and wolfdogs to become program animals for at-risk populations.
"At Wolf Connection we believe that the deep understanding of our relationships with animals and the environment is paramount in our development as individuals, productive societies, and sustainable
civilization on this planet."

Mission Statement, Wolf Connection
Normally they treat their Wolves with hot dogs so they weren't sure that they would like Hawai`i Doggie Bakery fresh baked biscuits, but Eileen wanted to give it a try.  She decided to send them our most popular flavor of biscuit, our Chicken-n-Poi munchies, and make them special by ordering our "Aloha" stamped version of this delicious snack.
The verdict?  They LOVED them!!!  Here's Wolfee and Ryder enjoying our Chicken-n-Poi biscuits.  Cate from Wolf Connection said "The pack loved their treats" and also "they were begging for more!!!"
Aren't these photos fur-bulous???   These two wolves enjoying their HDB snacks are named Wolfee and Ryder:
RYDER

Ryder joined Wolf Connection at the age of just a year old. A young woman adopted him after seeing a post on Facebook that someone was going to take him to the shelter. Knowing that he would be euthanized, the young woman took him despite warnings that she would not be able to contain him. Ryder escaped many times and walked the neighborhood until the neighbors began complaining.  After threats from neighbors and complaints from Animal Control, the woman asked Wolf Connection to take him in. Ryder is young and spunky. He has a very sweet way of gently jumping up and placing his paws on staff…He has a way of doing so without much impact and he gives sweet kisses. When he is not acting that way…he is generally pushing boundaries and inciting mayhem with his kennel mate.

Arriving with his name and loving spirit, Wolfee joined Wolf Connection as a result of being confiscated during a sting operation: he had been traded for drugs. Ironically, his very first program hike participation was helping people overcoming substance abuse. Wolfee freely gives kisses and snuggles and loves being with people, especially kids.
How amazing it is to think that we were able to reach four-legged canines of another type, and they enjoyed our treats just as much as our doggie customers!!  Mahalo to Cate from Wolf Connection for sharing these photos with us.  If you would like to learn more about Wolf Connection, please visit their website at www.WolfConnection.org.