The Hawaii Pet Expo is always our favorite event of the year, but this year is even MORE exciting because it's the 25th Anniversary!  We love that there have been 25 years of pet lovers in Hawaii coming together to celebrate and it's still going strong.   In honor of this special occasion, all booths have been asked to do something 25-themed.  At our booth, we will be handing out 25% off coupons to use in our Manoa shop.  We will also be pairing up with our friends from Pacific Pooch Hui to do the Treasure Map game…with 2 25-themed Gift Baskets to give away!
As for our Hawai`i Doggie Bakery booth, we will be closing down our shop on Friday, May 9th at 3pm to set up.  Our shop will be closed on Saturday and Sunday because we will be bringing the ENTIRE SHOP down to the expo.  That's right, you will be able to get all your pup's favorite fresh baked doggie treats PLUS all our locally-made doggie gift items from Hawaii Handmade Gifts, Lei Woof, idkwhat2wear, Filthy Farmgirl and Pixie Paws!  We will also have our original Yellow Bows which were created in support of The Yellow Dog Project.
This slideshow requires JavaScript.
Another special "treat" we'll have at the Pet Expo…Get a FREE "Be humane" button with any idkwhat2wear t-shirt purchase while supplies last!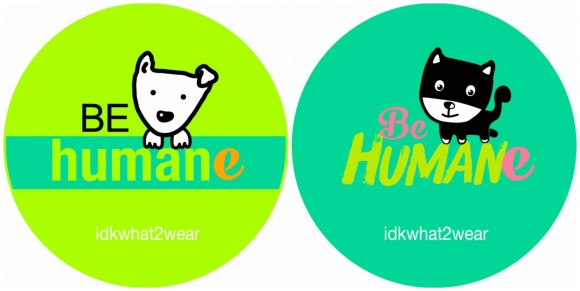 Here's what's on the menu from Hawai`i Doggie Bakery for Pet Expo 2014:
All doggie biscuits – Kalua Chicken-n-Poi Munchies, Ipo's Sweet Potato Sweethearts,
Fish-n-Poi Pup Treats
Doggie Bentos
Woofles
Peanut Butter Muffins
Banana Mutt Muffins
Paw Lickin' Lasagna
Huli Chicken Roll Over Rolls
Poi Dog Pretzels
Hiwa's Hawaiian Energy Bars
Happy Birthday Biscuits (Kalua Chicken-n-Poi flavored)
Doggie Leis
Gluten-Free Treat — NEW!
Biscuit Mixes
Hawai`i Doggie Bakery Official Cookbook
Hawaii Doggie Bakery Official T-shirts
Make sure you get your pup's favorite treats and pre-order for pick up starting Saturday, May 3!